Difference between revisions of "Data Workers Publication"
From Algolit
 

Line 1:
Line 1:
 
+

[[File:Data-workers.en.cover.png|thumb|right|Cover of the Data Workers publication]]

 

By Algolit

 

By Algolit

 
 
---
Latest revision as of 10:32, 28 May 2019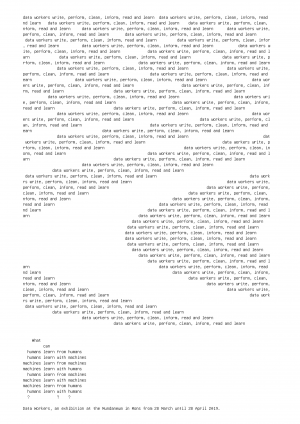 By Algolit
All works visible in the exhibition, as well as the contextual stories and some extra text material have been collected in a publication, which exists in French and English.
This publication is made using a plain text workflow, based on various text processing and counting tools. The plain text file format is a type of document in which there is no inherent structural difference between headers and paragraphs anymore. It is the most used type of document in machine learning models for text. This format has been the starting point of a playful design process, where pages are carefully counted, page by page, line by line and character by character.
Each page holds 110 characters per line and 70 lines per page. The design originates from the act of counting words, spaces and lines. It plays with random choices, scripted patterns and ASCII/UNICODE-fonts, to speculate about the materiality of digital text and to explore the interrelations between counting and writing through words and numbers.
---
Texts: Cristina Cochior, Sarah Garcin, Gijs de Heij, An Mertens, François Zajéga, Louise Dekeuleneer, Florian Van de Weyer, Laetitia Trozzi, Rémi Forte, Guillaume Slizewicz.
Translations & proofreading: deepl.com, Michel Cleempoel, Elodie Mugrefya, Emma Kraak, Patrick Lennon.
Lay-out & cover: Manetta Berends
Responsible publisher: Constant vzw/asbl, Rue du Fortstraat 5, 1060 Brussels
Lay-out & cover publication: Manetta Berends
Plain Text Workflow: https://git.vvvvvvaria.org/mb/data-workers-publication
PDF: File:Data-workers.en.publication.pdf (EN), File:Data-workers.fr.publication.pdf (FR)
License: Algolit, Data Workers, March 2019, Brussels. Copyleft: This is a free work, you can copy, distribute, and modify it under the terms of the Free Art License http://artlibre.org/licence/lal/en/.